Second Annual Conference of CInMED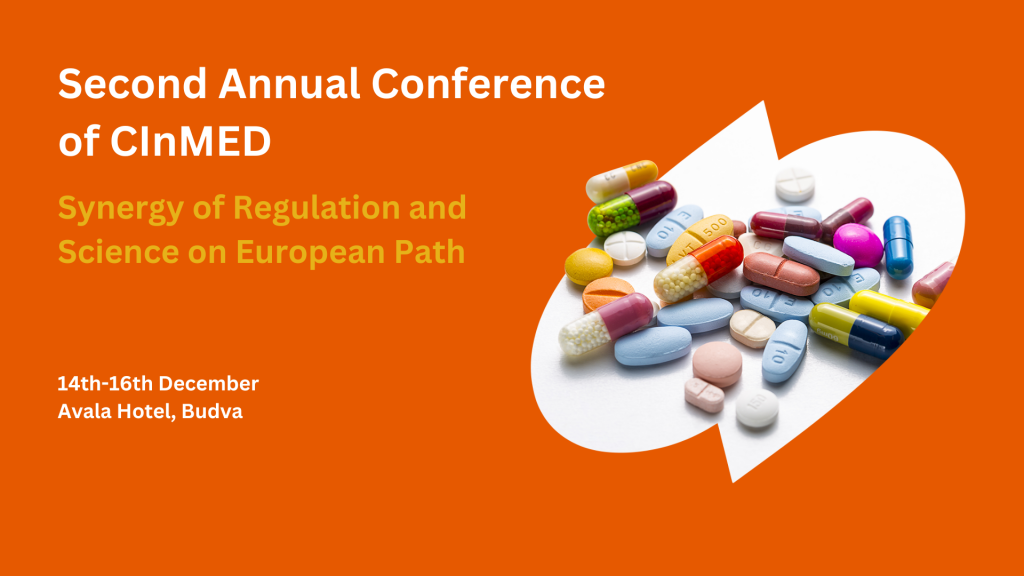 Dear esteemed friends and colleagues,
It is our great honor and pleasure to inform you that the second annual conference of the Institute for Medicines and Medical Devices of Montenegro, titled " Synergy of Regulation and Science on European Path", will take place from December 14th to 16th at the Avala Hotel in Budva.
As the competent regulatory body in the field of medicines and medical devices, we take pride in initiating a tradition of gatherings in Montenegro, which represents a valuable opportunity for professional development, insights into the latest knowledge and achievements in pharmaceutical science, as well as fruitful exchange of opinions and experiences. Together with our collaborators, industry partners, and experts from various fields, we will have the opportunity to explore current topics, discuss challenges, and find innovative ways to enhance regulation and practice.
Guided by our vision that collaboration and partnership are the foundations for success and outstanding results, this year, we will organize lectures and discussions according to the interests expressed by our clients in the previous period. Accordingly, our program will primarily focus on topics related to the process of drug licensing, renewals, and variations, as well as drug consumption monitoring and pharmacovigilance. Additionally, a scientific session is planned, which reflects our dedication to research and development at the Institute.
Our philosophy is clear: we believe that the synergy of regulation and science plays a pivotal role in shaping the future in the field of medicines and medical devices. Therefore, this conference will provide an opportunity to jointly explore how this harmony can bring about positive and inspiring changes.
In line with our commitment to social responsibility, it is important to note that this conference will also have a charitable character.
The participation fee is €600 + VAT.
We expect that this tradition of gathering will become a symbol of excellence and collaboration in the field of medicines and medical devices in Montenegro, and we are eagerly looking forward to a brighter future for the health of our citizens.
We look forward to your participation and the collective journey of creating synergy!
We invite all interested parties to submit their applications no later than November 15th to the email address: [email protected].
The application form i s available here.
The conference program is available here.
Search
register
Here you can search for medicines in our register